EASYBRIDGE 2019
NEW EASYBRIDGE Series
will begin with lessons on
Monday, October 14
at 5:30pm
Location for EASYBRIDGE
Rm. 211, 516 2nd Avenue
To join these lessons
call 378-3324 or email: farnorthbridge@yahoo.com
'A Lifetime Gift'
Learn how to play this great game.

Thanks to everyone who voted in the
Annual Election Results
Pat Costello, Barbara Rothrock & Colin Topp
Continue to play on Tuesday & Friday evenings, & Wednesday afternoon.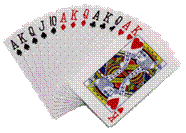 HERE IS TO A
7NT HAND SOMETIME THIS YEAR
Visitors to Fairbanks, please call 378-3324
for game confirmation time or for transportation